Hiring a Management Consultant: 4 Simple Steps
|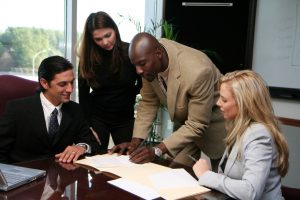 I met with a prospective client who inspired this blog.  She had never hired a consultant before and was not sure what questions to ask, how to proceed to contract for work, and how a management consultant would work actually perform the work for her organization.  Most of all, she was not sure if she actually needed to hire a consultant in the first place!  There are four steps that might simplify the steps in hiring a management consultant or outsourcing a professional services project for your business.  If you are a small business or management consultant, you may find some helpful tips here that you can use as well.
Step 1: Have a good reason
A management consultant should be hired when and organization needs expertise in an area that does not exist in the organization, when objectivity and confidentiality are required; when issues, problems, processes, or information needs to be gathered, assessed or understood and existing staff do not have the skills, objectivity or time to carry out these tasks. Simply put, management consultants add capacity, objectivity and resources.  Because management consultants are independent, they can be hired on a project basis and actually be a cost savings in the long run.  Companies who hire management consultants can engage them on a project specific basis or on retainer to facilitate the resolution of more complex long term organizational problems.
Step 2: Hire the right consultant
The right management consultant has the skills necessary to carry out the work that you need to have done.  Managers who hire consultants should have a clear understanding of the organizational needs and objectives, and rationale for hiring a consultant before contacting a consultant to discuss a prospective project.  The clearer the project objectives, the easier it is for a consultant to respond with a well written proposal of services that will be offered to meet the client's needs. Organizational needs that are not clearly communicated will require more work on the part of a consultant and may become part of the consultant's scope of work.  With less experienced consultants, uncovering underlying problems may contribute to project delays.  Managers should focus on the work to be done rather than cost and identify consultants that have the experience, expertise and skill to carry out the work.  Value consultants will save organizations in the long run as they are most knowledgeable about the work and can therefore be more efficient.
Step 3: What can you expect from a first meeting?
A good management consultant will ask a lot of questions that should determine: why the client is initiating the request; the needs and issues are in the organization; the specific objectives desired; what outcomes are expected; similar work that has been done in the past; competitive or strategic issues; timetable requirements;  project management team function;  and internal political issues.  To be successful, the initial meeting with the consultant, (whether by teleconference or in person), should have key personnel who will have primary role in working with the consultant and facilitating the work.  Clients must understand that the work of the consultant is reliant upon a project support team for ongoing communication and facilitating the provision of internal information, the review of project deliverables and providing prompt responses to questions.  The lack of internal support is frustrating for the management consultant and can affect the quality of deliverables.  With some contracts that are based on effort rather than fixed cost, this can increase the cost. It should not take more than one meeting between a client and management consultant for the consultant to be able to formulate a proposal.
Step 4: A complete proposal
There are many acceptable formats for services proposals but at a minimum they should contain a clear description of the problem or situation that the consultant has been asked to address.  This background may also include some preliminary research or supportive data.  It should include a Scope of Work that lists all major tasks that will be conducted by the consultant.  The consultant should describe the methodology or how the work will be carried out and what resources will be involved.  A work plan with a timetable of when major tasks are completed that is in alignment with the Scope of Work is an essential element.  A business proposal that shows all costs and deliverables is the final step.  Resumes or bios of consultants who will work on the proposal can be included as attachments.  More or less can be added to proposals based on the project need.  You may want to ask for references and descriptions or samples of similar work. A comprehensive proposal becomes a contract that will ensure that the work that is being performed matches the client requirements.  The proposal should clearly state what support the consultant will need of the client's organization or resources – so there are no surprises.  If you like the proposal, sign it, making sure all work expectations for both parties are clearly stated. Good management consultants are busy and time is money.  Sitting on proposals may mean a lack of availability later on or an increase in pricing.  My personal philosophy is no contract – no work.  Vague proposals yield vague contracts which become a problem for managing expectations of work.
Hiring a management consultant can increase organizational capacity and productivity.  Managers who do their work up front will have a consulting relationship that brings forth the desired results.
Suggested reading:
http://managementconsulted.com/consulting-skills/6-reasons-why-companies-hire-management-consultants-that-charge-2-million-for-3-months-of-work/
http://www.methodframeworks.com/article/why-you-should-not-hire-management-consulting-firm/index.html
http://www.forbes.com/sites/timworstall/2012/02/03/why-do-companies-hire-management-consultants/